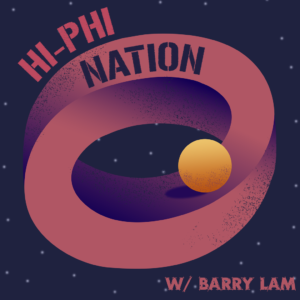 Tell us about your podcast.
The show integrates narrative storytelling, journalism, and philosophy. Each episode is essentially a documentary connecting a story from science, politics, history, law, or everyday life with a philosophical issue and contemporary thinkers on that issue. I write, produce, edit, and soundtrack the show. I am releasing it seasonally, and it is available on every podcast app, Google Play, as well as online at hiphination.org. If people don't know how to listen to a podcast, just take your device and go to the website.
Why did you start doing a podcast?
I wanted to create a new genre that hadn't been done before for philosophy. There is little integration of philosophy with narrative elements. Narrative audio happens to be the most popular and critically acclaimed, as well as the most aesthetically interesting medium for communication of ideas, so that's what I wanted to do. There are a lot of good interview or lecture-based shows out there already. This show is meant to be a more artistic, narrative nonfiction, form of philosophy.
What are the best three episodes you've aired so far, in your opinion?
Moral Exploitation (Season 1 Episode 2, bit.ly/2jE68f5). When one Army soldier discovered the propagation of torture tactics during the Iraq war, he engaged in a one-man mission inside the organisation to learn about their origins, and the effect they had on lower-level soldiers who were implementing them. From there, he took on the Bush administration.
The Name of God (Season 1, Episode 4, bit.ly/2lWzs36). With a small gesture of good will toward Syrian refugees, one woman incurred the wrath of evangelical Christians on social media. The resulting chaos helped write the next chapter in a thousand year-old controversy concerning Christianity, Islam, their shared origins, and the nature of God.
Be a Man (Season 1, Episode 8, bit.ly/2mRa5j8) Our ideas of manhood and womanhood determine the ways in which we raise and socialise our children, but how much does gender in a particular society depend on that society's relationship with violence? What happens when, all of a sudden, women are allowed to participate in a form of violence once reserved for men? This week, we investigate the effects and side effects of gender norms arising from militarism.
Can you recommend one other philosophical podcast and tell us about one good episode?
There are a lot of good philosophy shows that are more targeted toward a general audience than to professional philosophers. "History of Philosophy without Gaps" is very popular. For nicely produced, generalist shows, "Ministry of Ideas" is good. "Philosophy Bites" is the ground breaker.
Beside straight up philosophy podcasts, could you recommend another podcast?
I listen to dozens of them, including everyone's usual favourites. But if I had to recommend, my favourites are "Love+Radio", "Heavyweight", and "Rough Translation".
"Love+Radio" is an artistically produced, weird show bringing you a single person's story each episode. "Heavyweight" is a funny and heartfelt show by one of the best narrative audio writers around, Jonathan Goldstein. "Rough Translation" is an NPR documentary news show about how a particular issue of concern to Americans plays out in other countries, focusing on the voices of everyday people in Africa, Asia, and so forth. It was my favourite new show of 2017.