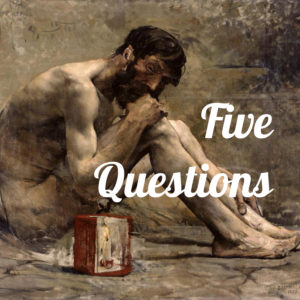 Tell us about your podcast.
The basic premise is simple: I ask contemporary philosophers five questions about themselves. My inspiration is Iris Murdoch, who said (perhaps paradoxically) both that "philosophy is … not self-expression" and that "to do philosophy is to explore one's temperament and at the same time to attempt to discover the truth". She also said that it's a significant question to ask about any philosopher, what is he afraid of? Beginning with temperament and ending with fear, I explore the relationship between philosophers' lives and work. I post an episode each week at anchor.fm/kieran-setiya.
Why did you start doing a podcast?
I started the podcast in March 2020, when Massachusetts was locked down. I found myself unable to concentrate on philosophy but missing other philosophers. I thought I'd make a virtue of necessity and talk to philosophers I rarely get to see or don't really know, and that I'd talk to them about philosophy without having to work through all the arguments. We sometimes pretend that philosophers are detached, impersonal intellects. But they are typically interesting people — philosophy is an odd and obsessive vocation — and most have a deeply personal stake in their work.
What are the best three episodes you've aired so far, in your opinion?
This is difficult! It's like being asked to pick your favourite child; I love them all in different ways. Maybe I can answer by saying a bit about what I found most interesting in the first three episodes, with David Velleman, Susan Wolf, and Richard Moran. I think they provide a pretty good way into the podcast, though listeners could start anywhere.
The conversation with David Velleman explores the idea that "everyone works on what he has trouble with" — in Velleman's case, autonomy, which he guards fiercely in his own life and examines deeply in his work. Velleman offers an account of how philosophy could be at once an exploration of temperament and an attempt to discover the truth, since philosophies partly shape the human reality they describe. He explains why he is annoyed by arguments and reveals the most important works of philosophy he has never read.
Susan Wolf talks about her fear of being a jerk and how it informs both her work on responsibility and, more surprisingly, on the meaning of life. She gives a lovely tribute to her most inspiring teachers. Plus the interview reveals why there is a recipe for chocolate cake in one of her books.
In the third episode, I talk to Richard Moran, who narrates his unusual path to a career in philosophy, which includes the ritual burning of a term paper (not by him) and his BA in Philosophy "modified by Philosophy". (If you want to know what that means, you'll have to listen to the episode!) He talks about philosophy as writing and about his resistance to — and fear of? — philosophical scepticism. Also: Wittgenstein, the hermeneutics of suspicion, and a whole lot more.
Can you recommend one other philosophical podcast and tell us about one good episode?
There are a lot of very good philosophy podcasts: Philosophy Bites, Elucidations, and Hi-Phi Nation, to name just three. A podcast readers might not know is Give and Take, hosted by Scott Jones. It's not exclusively philosophical — more philosophy-meets-theology-meets-contemporary-culture — but Scott is a brilliant interviewer. Funny, quick, somehow both erudite and down-to-earth, he has been described as the love child of Howard Stern and Krista Tippett. It doesn't matter who he's talking to; every episode is interesting and fun.
Besides straight up philosophy podcasts, could you recommend another podcast?
My favourite non-philosophy podcasts are about comedy: Richard Herring's Leicester Square Theatre Podcast and Stuart Goldsmith's Comedian's Comedian. Each consists of interviews with comedians about their work. The first is more irreverent, the second more studious, but both are funny, informative, and occasionally quite moving. Richard Herring's interview with Stephen Fry is now legendary; on Comedian's Comedian, I'm particularly fond of the interviews with Hari Kondabolu and Moshe Kasher.