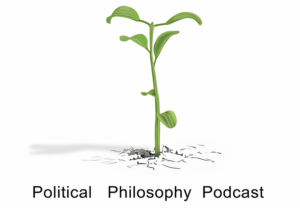 Tell us about your podcast.
It's basically what it sounds like – a podcast on political philosophy! The show – available at www.politicalphilosophypodcast.com – is a combination of interviews and solo presentations from me.
I use political philosophy in a fair broad sense: I cover political values, ethics, religion, political ideologies, as well as normative and theoretical questions arising from current events. It's a medium-long format show that aims to go into the real substance of these issues.
The overall goal is to explore the connections between political thought and political practice is a sustained way. This partially reflects my own background – political philosophy is a big interest of mine that I have some education in, but the bulk of my work experience has been in electoral politics and progressive activism.
Why did you start doing a podcast?
I think the idea came as I was looking for a particular type of podcast I wanted to listen to and realised it didn't exist.
Specifically, I wanted a philosophy podcast that covered political philosophy at something more than the introductory level. I knew other fields had specialist shows that engaged directly with their material rather than simply introducing it to the public and I wanted to find the political philosophy equivalent of that.
After realising that what I was looking for didn't exist I found myself pondering what would be involved in creating it. I couldn't really tell you at what point these thoughts turned from hypothetical to actual planning. I can be pretty obsessive once I get an idea in my head and, at some point, after having researched guests, reached out to other podcasters for advice, and found my intro music, I realised I had gone from thinking about a show I'd like to exist to actively creating it.
Carried away by my own – somewhat neurotic – inertia I found myself putting together the first 6 episodes somewhat on auto pilot. I initially didn't really expect it to find an audience – it seemed too niche – but over time it's grown, and I've stuck with it.
What are the best three episodes you've aired so far, in your opinion?
I really try not to think about it like that! I've had a wide range of guests from some of the worlds leading academic thinkers, to activists, other podcasters, a US Senator, and high-profile journalists – basically people who I thought might have something interesting to say on the topic.
So, I try to avoid having favourites. For episodes that readers could check out I'll limit myself to solo presentations I've done that have proved popular with listeners (but they can also look at the episode history to see if there are interviews that would interest them):
My first big solo project – which got me enough positive feedback to convince me that I could do episodes like this in addition to interviews – was a history of Libertarianism (bit.ly/3sFuObX). I'm not a libertarian personally but I tried to produce a nuanced history, not simply a polemic of my own views. Specifically, I wanted to show how liberalism's history wasn't a simple transition from "classical" individualistic liberalism to modern "progressive" liberalism, rather that the ideology's central values have been contested and debated by philosophers and politicians throughout its history.
Occasionally I've tried to use a solo episode to develop an original theory, then invite audience feedback to help develop my views. I'll leave an evaluation of their success to others but mention two that I've really enjoyed working on:
I've been attempting to theorise humiliation and its role in politics. I'm increasingly convicted that this is a hugely important, and under theorised, currency in our political systems. The episode at bit.ly/3nZYexG provides an introduction to my approach.
As a UK/US duel national I'm often asked to compare and contrast the politics of the two countries. Beyond superficial similarities my view is that the disruptive nature of their political affairs comes from inverse contradictions: Both country's political cultures are incompatible with their institutions – but in almost exactly the opposite way. The episode at bit.ly/35S9xll is the most complete analysis I do of that.
Can you recommend one other philosophical podcast and tell us about one good episode?
There's a range of good ones depending on what exactly you're looking for – and what level of engagement suits you. Elucidations does solid interviews on a range of topics. The History of Philosophy Without any Gaps is a classic for a reason. Embrace the Void Podcast is quite similar to mine (with a more stylish presentation!)
I also like many of the lecture series that are publicly available. I don't have a specific recommendation here, but Yale Open Courses are really good. I've done a few of them on a range of philosophy, and philosophy adjacent, topics and am yet to find a bad one.
That all might be a bit general, but the bottom line is we're living in a really good time for this sort of philosophy content. I struggle to recommend a specific episode because it really depends on your tastes, interests, and how much time you want to put towards it. So, my recommendation if you're new to podcasts would be to see what's out there, sample a few things, and see what you like!
Besides straight up philosophy podcasts, could you recommend another podcast?
There are a few things I'll recommend to listeners: As a historical method nerd I've kind of fallen in love with New Testament history. I'm not religious but – independent of that – I just love seeing huge amounts of dedicated scholarship poring over a particular historical source with care and intellectual rigor. I've really loved the New Testament Review Podcast which introduces you to the main works in the field in a clear accessible way.
A completely different recommendation is I would suggest people interested in US politics listen to some legal podcasts (you can't really understand the country's politics without understanding the courts). I've got a lot out of listening to 5-4 Podcast (bit.ly/2LKMrq0) and Advisory Opinions (bit.ly/3bVjqm7) in combination. The former is a strongly progressive analysis of key supreme court cases, the latter a conservative (but not Trumpist) look at the modern court system.
That's just me though. I have some quite specific interests – and that's the great thing about the podcast boom: No matter what you're into you can usually find some great content on it. (Not to mention on topics you didn't know you would end up being fascinated by!)