I take a lot of photographs. The subject of most of those photographs is my five dogs. But I disproportionately take more photographs of one particular dog. His name is Miles.
My husband and I adopted Miles in 2013. Miles was rescued in Georgia, where lax leash laws and cultural attitudes against spay and neuter contribute to overcrowded shelters and high euthanasia rates. Miles got lucky and was transported up north to a Pennsylvania shelter to find a home. In a clever marketing effort, the shelter named him "Toto," after Dorothy's dog in The Wizard of Oz. Unlike Toto, Miles is reddish brown, but he has the same wiry coat, gravelly bark, and terrier spirit as the movie character. He found a home quickly, but he struggled with his new owner, and he was returned to the shelter after a month for growling and biting. When I met him at the shelter, he was wearing a faded purple bandana. He would barely look at me. I threw a tennis ball for him. He slowly trotted over to it and brought it partway back before dropping it in the dirt. "Are you aware of his past behaviour challenges?" asked the adoption agent. "Yes," I said. "He's perfect for us."
I used to be a professional philosopher. Now, I'm a professional dog trainer. And, I'm a particular kind of dog trainer. I use the science of applied behaviour analysis to assess behaviour and modify behaviour in dogs. I believe dog trainers have a strong ethical obligation to avoid using pain or fear to modify behaviour, and I put that view into practice when I'm teaching classes, training dogs, and coaching private clients. In the dog training culture wars, I'm what's pretty accurately known as a "force-free positive reinforcement trainer" and what's pejoratively known as a "cookie pusher" because I use food for training. (I actually rather like the pejorative characterization, to be honest.)
When we adopted Miles, he was afraid of lot of things. On our walks, he'd scan the environment, looking for potential threats. And, Miles' view was that a good offense was the best defence, so he'd growl at everything that worried him. Even though I was more of a philosopher than a dog trainer at the time, I knew what to do to help Miles feel less afraid, help him feel safe, make scary stuff predict awesome stuff, and teach him things. I started reinforcing small behaviours with food in different environments. "Oh, you approached that strange trash can that wasn't here yesterday. What a brave dog, have some chicken." He began to feel better about going for walks, seeing new people, seeing other dogs, and encountering novel items in the world.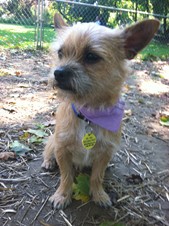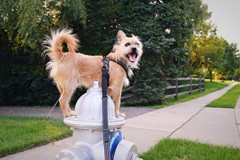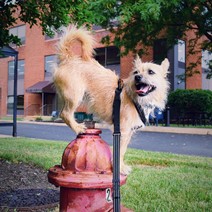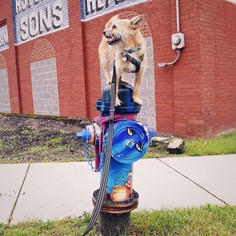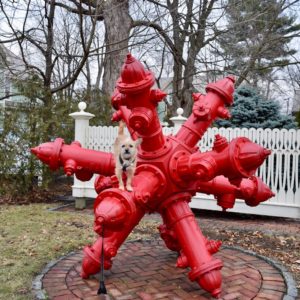 In 2014, I moved to Los Angeles for six months for what would be my last academic job. The things Miles had learned helped him feel comfortable in our new city. We also added some new skills into his repertoire. He could jump on a retaining wall, put his front paws on a flowerpot, or touch his nose to my hand, all on cue. One day, I asked him to put his front paws on a fire hydrant at the intersection of Westerly Terrace and Berkeley Avenue. Instead, he jumped on top of it. He looked so pleasantly surprised to be up high, on top of this fire hydrant. I paid him in cheese and took a photo with my iPhone.
One mantra in the science of behaviour is this, "Reinforced behaviour is repeated behaviour." It's a paraphrase of Edward Thorndike's Law of Effect. And Miles demonstrated this on our next walk in our Los Angeles neighbourhood. He jumped on top of the first fire hydrant again, and then he jumped on the next one we encountered up the block. And then the next one. And the next one. He kept doing it, I kept reinforcing it, and I kept taking his photo. My little dog had found his favourite thing. I bought a better camera and Miles on Hydrants was born.
Miles on Hydrants is a photography project. For the past four years, Miles has jumped on a different fire hydrant for every single day of the year. I post them to @milesonhydrants on Facebook and Instagram. As of this writing, he's balanced on 1,570 fire hydrants in 21 states, in over 100 cities. There are a few rules to the project, and, as with most games, the rules are arbitrary. The only hydrant Miles repeats is the one in front of Providence Animal Shelter in Media, Pennsylvania, on the anniversary of his adoption. Otherwise, each hydrant is different. Another rule is that Miles has to jump up by himself; he's almost never picked up and placed on top. He sometimes vaults himself onto my leg for a boost, as we discovered that some fire hydrants are very tall. We do hydrants about once a week, and his record for hydrants summitted in one outing is 29. He jumps up, he decides how to keep his balance and how he wants to pose, and then he holds very still for me to take his photo.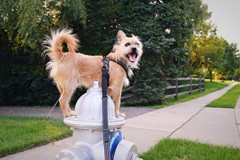 I've written elsewhere about our ethical obligations regarding animals in sports and games. I largely reject arguments that conclude that the presence of animals in sport is necessarily wrong or exploitative. Instead, I think we ought to consider the following question. Would an animal reasonably choose to engage in this activity? I argue that animals would not choose to engage in activities that involve force, fear, or pain, and we ought to consider our activities with the animal's preferences, agency, and wellbeing in mind. Lots of dog sports request various kinds of jumping and climbing from canine athletes. While jumping on fire hydrants is not a sport in itself, it's not uncommon to see it in a dog sport called Dog Parkour. According to the International Dog Parkour Association, "Dogs get introduced to the world of jumping, climbing, balancing over, crawling under, and going around different obstacles in their everyday world. Dog Parkour can be done anywhere and is limited only by one's imagination."
I've committed to keeping up this project until Miles no longer likes doing it or is no longer physically able to participate in it. I've mentally prepared myself for the day that he loses interest. I've considered how I might modify the rules as he ages or if he is injured. However, I was not prepared for him to love this so much, and it still surprises me. I've posted several videos where I've simply said, "Hydrants?" and he starts screaming and bouncing with sheer delight.
After 1,500+ hydrants, Miles has developed clear preferences for certain fire hydrant models. I'd venture to say that his preferences are aesthetic in nature, as his appreciation for fire hydrants depends on his ability to jump up and stand on them with ease and comfort. He dislikes Mathews hydrants because they have a very tall bonnet and almost no lip around the rim. He has to grip with his toes and wrap his body around the bonnet. Mathews hydrants were produced from 1887 to 1963, and it's rumoured that the fluted domed bonnet design took its inspiration from the US Capitol Building. Miles is also not fond of the Waterous Pacer fire hydrant. This hydrant is modern and angular, and he frequently decides to put all of his feet on the stem nut, a physically challenging pose. His favourite hydrants are made by Mueller Co. and American Darling Valve. I don't know how he decides which is the best pose for each particular hydrant, but it's a performance in itself. For some, he stands with four feet on the bonnet rim. For others, he puts his back feet up on the stem nut.
Fire hydrants are integral to urban development. A pressurized municipal water supply, coupled with functioning fire hydrants, means that water is readily available to extinguish fires. These infrastructure efforts to reduce risk caused by fire damage have enabled humans to live more safely in close proximity. Before there were fire hydrants, there were horse-drawn wagons of water and bucket brigades, teams of volunteers who would come on scene to pass buckets of water back and forth to put out fires. The first fire hydrant was invented by Frederick Graff, Sr., Chief Engineer at the Philadelphia Water Works, around 1801, though the patents were lost in a fire in the 1830s. The invention of the automobile changed the design of fire hydrants. A breakaway hydrant model was invented, so that if an automobile hit a fire hydrant, the hydrant breaks off without damaging the water line below. We've all seen cars hit fire hydrants in movies. The car crashes into a hydrant, and water shoots into the air and floods the street. That's usually a misrepresentation, and only happens in warm climates where wet barrel hydrants are common.
The cast iron hydrants that decorate our communities today come in a variety of shapes and colours. The National Fire Protection Association issues recommendations for coding fire hydrants by colour, according to gallons per minute that a hydrant can pump. This helps firefighters know which hydrants to use in relation to the size of a fire. However, these markings are not universal or required, and some communities choose to paint their fire hydrants differently. For example, in Marysville, Ohio, the hydrants are painted blue and red, the school colours of the local high school. And the hydrants in Blue Ball, Pennsylvania, are – not surprisingly – blue.
As I took more photographs of Miles, I learned more about fire hydrants. I found myself enmeshed in a community of fire hydrant enthusiasts. There are entire Instagram accounts devoted to photographs of fire hydrants. There are folks who collect antique or out-of-use fire hydrants. Sean Crane has written a coffee table book entitled, American Hydrant. The largest working fire hydrant is located in Beaumont, Texas. Built in 1999, it is painted with Dalmatian spots as a tribute to the Disney animated film, 101 Dalmatians, and is 29 feet tall. A few years later, Blue Sky (Warren Edward Johnson) unveiled his sculpture, Busted Plug Plaza, depicting a leaning silver fire hydrant almost 40 feet tall, in Columbia, South Carolina.
The idea that everyday objects have aesthetic value has been a mainstay throughout art history. From Marcel Duchamp's Fountain and other readymade sculptures to Tracey Emin's My Bed, the use of everyday objects in artwork challenges us to appreciate objects apart from their function. To aesthetically appreciate everyday objects challenges our definitions of art, as well as the class-drawn distinctions in the art world that remain between museum- and gallery-worthy artworks and artworks that belong to the realm of kitsch or the street. When it comes to photography, the dog has become a compelling subject. William Wegman's iconic Weimaraners must be included in any list of photographers who take on dogs as their subjects, as well as Seth Casteel's photos of dogs underwater. Tim Flach's portraits of dogs are haunting and modern, and Sophie Gamand's photos of shelter Pit Bull Terriers in flower halos showcase the sweet and silly. Seeing a dog jump on top of a fire hydrant and pose there is a unique sight. Some of our followers have reported that now that they've seen Miles perched atop a fire hydrant, they can't stop noticing fire hydrants everywhere.
For hydrant No. 1000, Miles and I made a special trip to Vermont to visit a sculpture made out of fire hydrants by artist Chris Sharp. Fire Hydrant Jack is twelve bright red fire hydrants welded together in a dodecahedron. Sharp intended for the sculpture to be a tribute to 9/11 firefighters and their courage. Sharp wrote to David K. Leff in 2016 that the sculpture is "also about the playful representation of an overlooked and under-appreciated everyday object." The hydrant sculpture is located on Route 7 in Shelburne, Vermont, across from the Shelburne Fire Department. It was raining on the 21st of January 2017, when Miles balanced on the sculpture. Would Miles recognise these as fire hydrants? Should I count them even though none of them were in use? (I decided to count the entire sculpture as one hydrant.)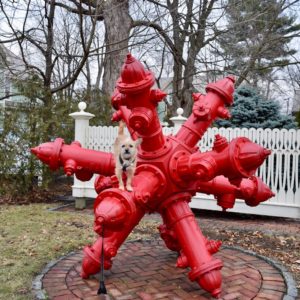 Similarly, when Miles was approaching hydrant No. 1,500, we searched for a special hydrant to mark the occasion. We discovered that Pittston, Pennsylvania, had a community art campaign called Arts on Fire. This public art campaign enabled local businesses to sponsor an artist to create artwork on a fire hydrant. The campaign produced magnificent results, with fire hydrants painted in memoriam of people who had passed, a Legend of Zelda-themed fire hydrant, and all manner of colourfully themed hydrants that gestured to local businesses and the proclivities of Pittston citizens. For hydrant No. 1,497, Miles balanced on a hydrant that was painted after F. Scott Fitzgerald's 1925 novel The Great Gatsby. The hydrant features the cover artwork by Spanish artist Francis Cugat, and the last line of the novel is painted on the back, "So we beat on, boats against the current, borne back ceaselessly into the past." For heaven's sakes, someone also put a pink scarf around that hydrant. For his 1,500th hydrant, Miles balanced on a hydrant outside the local fire department, which was appropriately painted in red and orange flames, and a blue wash to represent water. I am grateful to the Pittston Arts Council which helped me identify the artists and themes of the 18 artistic hydrants Miles jumped on that day.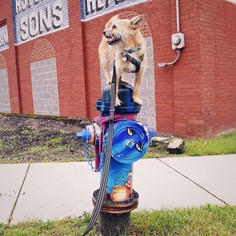 The Gatsby-themed hydrant raised so many aesthetic questions for me that I couldn't stop laughing as I posted that photo to social media. Which was the artwork? Representing Cugat's cover painting on a fire hydrant? Was is the fact that Cugat's painting had become utterly synonymous with The Great Gatsby? What happened when Miles jumped on top and I took his photo? Was that an artwork itself? Was it derivative or appropriative? And what about that pink scarf? This particular hydrant brought all these lurking questions to the forefront. And what about the aesthetic significance of the fact that this is a streak? Streaks in sports are a sublime thing to behold. The streak has motivated and supported me in deep ways. Through the professional and personal upheaval of changing careers, through wondering who I am if I am not an academic, this little project with my dog has been there as a constant.
Philosophers talk about virtues such as bravery and courage, and this has been an ongoing theme for us. Not only is Miles an odd little dog with a quirky obsession, but he also had a lot of fears to conquer. One of the messages I try to convey in the project is that it's okay to be different, and that you have to be brave to be different. It might sound saccharin, but that's okay with me. I created a hashtag, as folks on social media sometimes do: #bekindbeweirdbebrave. I think that if dogs had mottos, that would be Miles'. It so resonated with one of our connections on social media that she had it tattooed on her arm.
We invite dogs into our lives for many reasons, sometimes out of necessity and sometimes out of frivolity. But we usually invite dogs into our lives because we long for connection. And it's the ultimate paradox. These are animals with sharp teeth, after all, but we continue to attempt to connect with them in profound and transformative ways. Those of us who live with animals have an ethical obligation to seek out activities to enjoy together. I take my dog out to jump on fire hydrants because it matters to him, and it makes his life more interesting. It's enriched and transformed my life in unexpected ways, but that was never the point. This was the dog's idea, and it's his artistic practice. This activity has an aesthetic component for Miles, as it's enabled him to appreciate his environment in a more meaningful way. Anais Nin wrote, "Life shrinks or expands in proportion to one's courage." This project has not only expanded both of our lives (and our courage), it has also enabled me to appreciate my dog for all his richness and sharpness. Through this project, we cultivate a shared experience through a whimsical practice that calls attention to the everyday. Most importantly, we get to do this together. I hope he wants to keep this up for a while.